Client
Premiere Oil
Project Year
2010
Project Location
Natuna Sea
Completion Date
31.12.2010
Anoa Phase IV Compressor Reconfiguration FEED
Project Description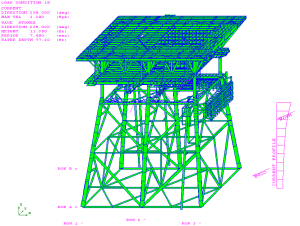 Premier Oil, as the operator of Block A in the West natuna Sea, intend to add the compressor due to falling reservoir pressure , and the side impact is  the increase of discharge pressure of WNTS.
The FEED consists of developing a compressor reconfiguration that Company has identified for extending Anoa gas production past 2012.
Platform Description
ü4 legs Jacket Wellhead platform with multi level deck
üNumber of Deck  = 2
Main Deck     El. (+) 72.00'
Cellar  Deck    El. (+) 44.00'
üPlatform Weight
Jacket Weight  = 1705.25 MT
Deck Weight   = 1219.27 MT
Scope of Services 
BiRU was responsible to generate engineering deliverables involving civil, piping and pipeline disciplines. Analysis was performed due to equipment additional, such as pig launcher, shelter, lightening pole and lighting tower. BiRU also responsible to perform flowline modification to handle oil and gas production. BiRU also challange and successed to design appropriate flowline with special condition that soil was heated by heat radiation occured from existing flowline.